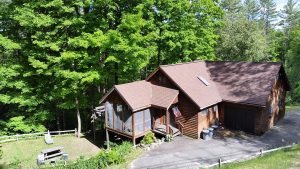 4 bedroom
Listing ID:
VR7222
Property Address:
1758 Rt. 9 , Schroon Lake, NY 12870
Region:
Gore Mountain and Schroon Lake Region – MAP
Bedrooms:
4
Bed Sizes:
3 Queen
3 Sleeper Sofa
1 Air Mattress
Bathrooms:
2.5
Max Occupancy:
12      4 Bedroom House Rental
On-Site Amenities:
• 100% Smoke Free (no indoor smoking ever by owners or renters
• Air Conditioner – Window
• Alarm Clock
• Beach, Association or Shared
• Blender
• Book Collection, Adirondack Related
• Book Collection, General
• Cable TV Reception, Basic
• Coffee Maker
• Credit Card or Paypal Accepted for Rental Fee
• Deck
• Dishwasher
• Dryer
• Extremely Private
• Fire Pit
• First Aid Kit
• Garage
• Grill (gas)
• High Speed Internet – Wireless
• Kitchenware (dishes, pots, utensils, etc.)• Linens Included (no extra fee)
• Summer Seasonal Rentals Available
• Microwave
• Pets Considered
• Picnic Table, Outdoor
• Porch (screen)
• Private
• Radio
• Refrigerator/Freezer (full size)
• River Access (easy walk)
• Rustic Furnishings
• Scenic View from Inside House
• Scenic View from Outside House
• Stove/Oven
• Telephone
• Television, Standard
• Toaster
• Tourist Information Folder
• Washer
• Woodstove (wood burning)
Activities On Site:
• Laundromat• 4 Bedroom House Rental
Activities 1-15 Minutes:
• ATM (Cash) Machine
• Bank
• Bar/Tavern/Brew Pub
• Basketball Court
• Bike Path
• Boat Rentals
• Boating
• Canoe/Kayak Rentals
• Canoeing/Kayaking
• Caves
• Church
• Farmer's Market
• Fishing
• Gas Station
• Golf Course
• Grocery Store – Large
• Hiking Trail(s)
• Historic Site
• Hunting
• Lake
• Library• Live Entertainment
• Live Theatre or Dance
• Marina
• Miniature Golf
• Movie Rental Store
• Movie Theatre
• Museum
• Nature Center or Attraction
• Office / Shipping Service Store
• Playground
• Private Beach
• Private Boat Launch
• Public Beach
• Public Boat Launch
• Restaurant
• River
• Sailing
• Tennis
• Tubing (River)
• Walking Path
Activities 16-30 Minutes:
• Antique Shopping
• ATV Trails
• Horse Trails• Horseback Riding Center
• Scenic Ski Lift or Gondola Ride
Activities 31-60 Minutes:
• Amusement Park
• Outlet Shopping
• Shopping Mall
• Train Ride
• Water Park
• Whitewater Rafting Center
:
You the renter are still responsible just like all other guests you have that you are responsible for.    4 Bedroom House Rental
Smoking Policy:
Please, no smoking inside or there will be a $250 charge.
Cleaning Policy:
Included in the price. Please leave the place as clean as you find it or close to it. Thanks!
Linen Policy:
Provided for the duration of your stay. Changed weekly not daily.
Security Deposit Information:
$250. Can be placed on your credit card. Leave the place in great condition and get it back in days. Thanks!
Rental Rates:
Weekly Sat.- Sun.No refunds of any kind once your reservation is booked.Call 518-461-1730 for reservations. Leave a message if you don't get an answer.  4 Bedroom House Rental
4 Bedroom House Rental
Custom Adirondack Home available starting at $899 per week (off season May 2nd, 2020 – June 6th, 2020  &  Sept. 5th , 2020 – October 5th, 2020) or $1,399, (summer prime time starting June 6th-Sept. 5th, 2020). 
Don't miss out on this beautiful, private, 4 bedroom, 2.5 bath Contemporary.
Right in the middle of lots of fun in the Schroon Lake Area! In the summer enjoy Water Skiing, Tubing, Swimming, Fishing, Canoeing, Hiking, Kayaking, Biking and much more…Schroon Lake Village, free Beach and free Public Boat Launch minutes away. 1/2 hour to Lake George! Beautiful downtown Schroon Lake Village for all of your shopping needs only minutes away! Can sleep up to 12 People!  4 Bedroom Camping House Rental
You'll love it! A great resort town in the middle of the Adirondacks. Lots to do! Old-time Movie Theater. Stores, restaurants, Topps Supermarket, Antique shops, ice cream, subs, sandwiches and much more…
It doesn't get much better!  4 Bedroom House Rental
Gore Mtn. and Whiteface Ski Resort 35 mins. away. Scenic Gondola rides in the summer!
The 2 time Olympic Village & Lake Placid only 45 minutes away! See the gorgeous high peaks of the Adirondacks. Home of the "Miracle on Ice" ice hockey team that won the Gold medal. Just a bunch of rookie college kids that beat the once unbeatable Soviet team and then went on to win Gold!
Montreal only 2 hours away! A great place to go to in the summertime!
Permission to hang out at Medcalf Acres Riverfront Campground, minutes away, included for free. Summer only!
Call today for more details! 518-461-1730.  4 Bedroom Camping House Rental
Access to many other lakes nearby. Bring your boat, kids, family and lay back and have fun!
Cave Exploring and much more!  4 Bedroom Camping House Rental