Get Discounts, Coupons & Promotions - (We do not sell to 3rd parties!)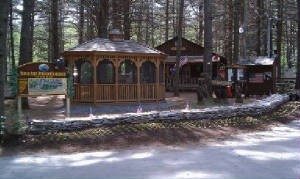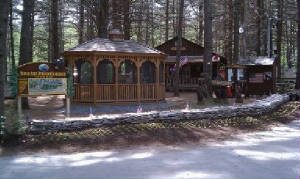 Campground Features Local Activities
Remodeled Restrooms w/free hot showers!
Medcalf Acres Riverfront Campground has a half mile of river frontage, including sandy beaches. The average two to four foot water depth makes it perfect for canoeing, rafting, fishing, kayaking and tubing. River depth fluctuates depending on how much rain we get. It is out of our control.
All sites have a picnic table and fire ring.
All RV sites contain newer 30 amp electric service at every site, newer Time Warner Cable TV, newer high speed internet access, fire ring, and picnic table at every site. Water and sewer hook-ups also included.  Campground Features Local Activities
Campground facilities include a laundry room, hot showers, clean rest rooms, a safe playground, a volleyball court, Mini Golf, basketball hoop and a 24' x 40' covered pavilion. Check out our Arcade room and Mini Golf!  Campground Features Local Activities
The camp store "Denny's General Store", sells camping necessities including ice, wood, charcoal, propane and Coleman fuel for small grills and lanterns, dairy, canned goods, and best of all…..candy, ice cream, soda, and SNACKS!!!!
For the flora and fauna enthusiast, there is a nature
trail down past the left side of the pavillion that meanders along
the shoreline, ending at a sandy beach on a bend in the
river.  Campground Features Local Activities
But one of the best features of our
campground……very reasonable prices. Medcalf Acres is
a vacation spot the whole family can enjoy without breaking the bank!!!
Campground Features Local Activities:
Warrensburg Bike Rally June 13th-20th, 2022 
(Stay with us – 10% discount for this event if mentioned prior to making reservations)